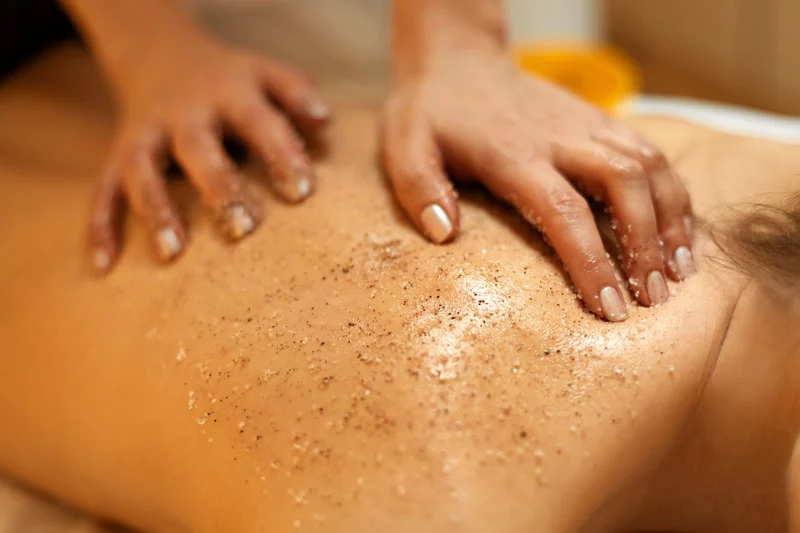 Exfoliating body treatment with enchanting aromas of white jasmine and gardenia. With the help of small white sugar crystals, the skin is rid of dead cells and blood circulation is boosted. Combined with the velvety body butter, your skin regains its lost elasticity and softness, revealing its healthy, radiant and smooth appearance! Take the experience to the next level by combining it, with one of our body services for the ultimate pampering experience. Book now and indulge in a rejuvenating treatment that will make you look and feel your best!
Some potential benefits of taking a body scrub before massage or body therapies:
Exfoliation: Body scrubbing removes dead skin cells, dirt, and oil from the surface layer of the skin, leaving it clean and smooth. This exfoliation process can enhance the effectiveness of massage or body therapies as it helps to open up pores and allows the skin to better absorb the products used in the treatments.
Relaxation: Body scrubbing can be a relaxing experience in itself, as it promotes circulation and helps to release tension from the muscles. This relaxation can also make the body more receptive to massage and other body therapies.
Detoxification: Body scrubbing can help to eliminate toxins from the skin, which can improve overall health and well-being. This detoxification process can enhance the benefits of massage and other body therapies by promoting healing and regulating bodily functions.
Improved Skin Health: Body scrubbing can help to improve skin health by removing impurities, unclogging pores, and promoting cell renewal. This can lead to smoother, softer, and more radiant skin, which can enhance the results of massage and other body therapies.
Overall, taking a body scrub before massage or body therapies can enhance their effectiveness and provide additional benefits for the body
Body scrub is ideal for anyone who wants to exfoliate their skin and remove dead skin cells. It is especially beneficial for people with dry or flaky skin, as it helps to stimulate blood flow and promote the growth of new skin cells. Body scrub is also great for people who want to prep their skin for a tan, as it helps to create a smooth and even base for self-tanners or spray tans. However, people with sensitive skin or skin conditions like eczema or psoriasis should consult with their dermatologist before using body scrub, as it may aggravate their condition.
Choose One Of The Suggested Services
Enhance your experience by adding 60 minutes of Access Bars or Access Facelift to your main massage or beauty service. These Access Consciousness techniques work with your body's energy to release limiting beliefs, stress and tension, promoting a deeper sense of relaxation and rejuvenation.
You've chosen the session you've been craving, but why stop there? Combine your desired massage service with the Radiant face facial treatment and get luminous skin that radiates, thanks to a combination that immediately offers rich hydration and multiple anti-aging benefits. The deep cleansing action of the enzyme peel gently removes dead skin cells from the surface, revealing a silky and even complexion. The gentle and naturally scented wild rose oil nourishes the skin through a rejuvenating facial massage, providing it with the essential elements that contribute to its proper functioning and youthfulness, giving it a fresh and radiant appearance.
Complete and complement your chosen service and your spa experience with our rejuvenating eye treatment, designed to leave you refreshed and rejuvenated.