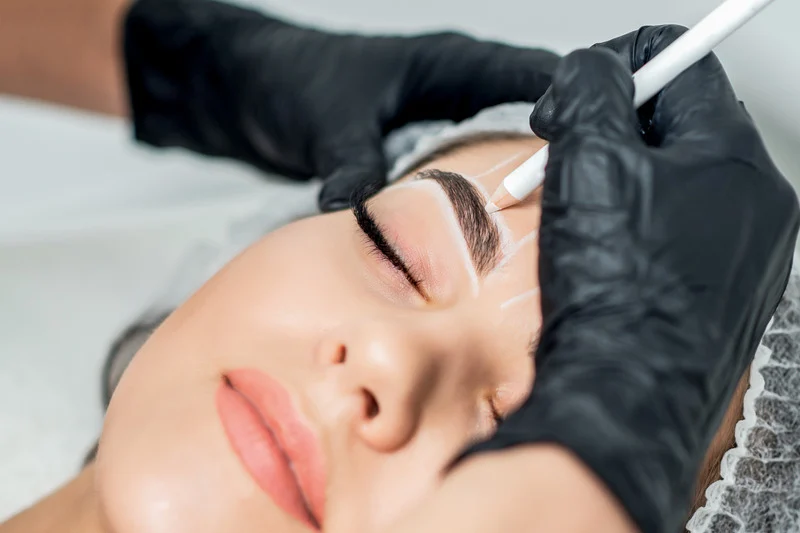 Powder brows is a semi-permanent makeup technique that creates a soft, powdery effect on the brows, similar to the look achieved with traditional powder or brow pencil. Brow artist Maria Patrinou uses a gentle, non-invasive technique to deposit pigments into the skin, creating a natural, long-lasting effect. The procedure takes approximately two hours and begins with a consultation to determine the perfect shape, thickness and color of your new brows. Results typically last up to two years, making it an ideal solution for those who want to save time on daily makeup application and maintain perfectly defined brows.
Powder eyebrows are suitable for anyone who wants a soft, natural-looking brow that enhances their facial features. It is a great solution for those who have sparse brows, asymmetrical brows or those who have undergone chemotherapy or suffer from alopecia. It is also ideal for those with oily skin or those who frequently engage in activities that can make their brow makeup smudge or wear off.
Saves time and eliminates the need for daily makeup application, freeing up time for other activities or self-care routines.
Boosts confidence and self-esteem, giving you a stylish appearance.
Provides natural-looking results that enhance your facial features and complement your overall appearance.
It offers a semi-permanent solution that lasts up to two years, reducing the need for frequent repairs and maintenance.
It contributes to a more active lifestyle, as you no longer have to worry about sweating or smudging your eyebrow makeup during exercise or outdoor activities.
Most clients achieve the desired results in just one session. However, a repeat session may be required 4-6 weeks after the initial procedure to perfect the color and shape of your new eyebrows. After that, touch-ups every 12-18 months are recommended to maintain optimal results.
What is the difference between microblading and powder brows
Microblading and powder brows are both semi-permanent eyebrow tattoo techniques, but they differ in terms of the end result and the method used.
Microblading involves the use of a small hand tool with tiny needles to create hair-like strokes that mimic the appearance of natural eyebrow hairs. The strokes are made with a pigment that matches the natural brow color and direction of the hairs, resulting in a very realistic and natural looking brow. Microblading is best for people who have very little or no eyebrow hair and who want a very natural look.
Powder brows, on the other hand, involves using a small hand tool or tatoo machine to create a shaded or powdered effect on the brow. This is done by depositing tiny dots of pigment into the skin, which gradually build up to create a soft, powdery look. The end result looks more like a full brow and can be adjusted to be very natural or bolder, depending on the client's preference. Powdered brows are best for people who have sparse brow hairs or who want a more defined and fuller look.
Overall, the main difference between microblading and powder brows is the end result and the technique used. Microblading creates hair-like brush strokes for a natural look, while powder brows create a filled-in, powdery effect. The choice between the two techniques depends on the client's preference, the brow hairs and the desired end result.